This new book on typography gives a pretty great run-down on the basics, and beyond, on using text. Butterick does seem to push a little bit too hard on using his own fonts, so although the book is free, it feels like a big ad. The information is still very useful and sound.
Check out Practical Typography, by Matthew Butterick.
Another free web book published this year is The Shape of Design by Frank Chimero. It also manages to be beautiful, while living inside a web browser. It has no underlying sales message either.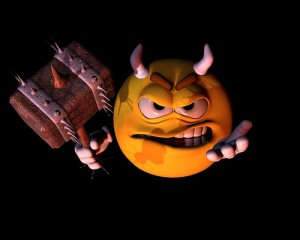 Evil emoticon by wstera2 Google emailed me this morning, letting me know this site had been hacked. My first thought was Scam. But on closer inspection, someone had indeed modified every php file here to spread the infection and redirect people to unfriendly websites.
It is entirely my fault, for not changing passwords when my web host told me to. But it's also a wakeup call about how much badness there is on the internet.
Everything is fixed now, and might even serve as an incentive to post a little more regularly. Seems unlikely however.
If life gives you lemons, make lemonade. Or, if you foolishly leave your climbing shoes at home, make awesome photos.
Jess climbing The Final Piece (25)
]2Tom climbing Wailer (25) It was a lot of fun hanging on a rope taking photos of friends on spectacular rock climbs. Everyone's getting really strong.
Is a very long time between posts. More than 10% of my life.
The trip I started in my last post was a resounding success. I rock climbed on 4 continents in 10 countries while travelling around the world. Celebrated the new year by sleeping in a snow cave on top of a mountain. Caught up with many old friends and made many new ones.
The time since then has been rather less exciting, but also much more relaxing.
My big holiday begins!
It's 2am in Singapore, the first stop off on my way to Italy, and I'm making use of the free internet facilities at the airport. That was the longest leg of the flight, the next two portions are each half an hour shorter. There's sooo much to watch on the plane, but nothing can keep my attention, am going to try and sleep some more this leg.
Previous
Page: 1 of 3
Next